Best 8CH DVR System with Hikvision 1080P Turbo HD 7 Camera Package Sri Lanka – Self Installation Kit – 2 Years Warranty
Protect the people and things that matter most with this 1080p Turbo HD Home / Office security system from Hikvision. This system features an 8-channel DVR and 1080p Turbo HD weatherproof security cameras. This system also features advanced High resolution 1080P Turbo HD Image sensors and 25 Meters Infrared Clear Night Vision.
Hikvision DS-7108HGHI-M1 1080p Turbo HD DVR
The DVR in this system is capable of working 24/7 without a break. Thankfully, so is the 1TB hard drive within it. Hikvision uses security certified hard drives that are manufactured specifically to meet the high workload demands of continuous security monitoring. This means that you can rely on this professional grade hard drive to safely store weeks (or even months) of security footage. It is also possible to manually upgrade the hard drive within the DVR to a hard drive up to 6TB in size.
Deep learning based human and vehicle targets classification of Motion Detection 2.0
H.265 Pro+/H.265 Pro/H.265 video compression
HDTVI/AHD/CVI/CVBS/IP video input
Audio via coaxial cable
Up to 10-ch IP camera input (up to 5 MP)
Encoding ability up to 1080p lite @ 15 fps
Max. 1200 m for 720p HDTVI signal
Remote Viewing – No Monthly Fees
HDMI and VGA Display Output
1 Hard Drive Bay
This system is designed for use with our innovative, hassle-free Hik-connect for End User app. With Hik-connect, you can quickly and easily view your security system remotely through your smartphone or tablet. You can also program the app to send you motion-activated notifications to your phone to keep you connected to your property at all times. Simply download the free app, scan the QR code on the DVR and your cameras will appear for you to monitor.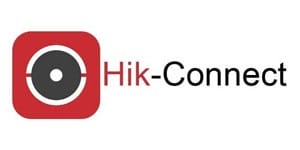 Works With

Hikvision DS-2CE16D0T-ITPF 1080p high definition detail and clarity
Experience the difference that full 1080p HD video makes. Our advanced cameras use standard coaxial cable to carry high definition 1080p (1920×1080) video to your Turbo HD DVR. This resolution ensures detailed live viewing and recording that leaves nothing to the imagination.
2 MP, 1920 × 1080 resolution
2.8 mm, 3.6 mm, 6 mm fixed lens
4 in 1 video output (switchable TVI/AHD/CVI/CVBS)
Smart IR, up to 25 m IR distance
Weatherproof – Indoor/Outdoor (IP67)
12 Volt DC
This Complete Hikvision Turbo HD CCTV Security Camera System includes:
(1) Hikvision DS-7108HGHI-M1 8 Channel "Turbo HD 1080P" High Definition Digital Video Recorder (DVR).
(7) Hikvision DS-2CE16D0T-ITPF 2MP Turbo HD Indoor/Outdoor Security Camera – up to 25 Meters Night Vision
(7) 12VDC 2Ah Outdoor/ Indoor Power Supply
(14) BNC Connectors
(1) Seagate / WD  1TB Hard Drive (1000GB HDD)
(1) 100 Meters 3C2V 75 Oms Coaxial Video Cable
Warranty & After sale service :
Two (02) years warranty for DVR and Camera's against manufacturing defects.
One (01) year warranty One to One Replacement for 1000GB  Hard Disk Drive against manufacturing defects.
Energy CCTV Security Camera Solution –  Working hours:
Monday – Friday: 9.00 AM – 5.00 PM | Saturday: 9.00 AM – 2.00 PM | Sunday/ Poya Day: closed
---
Hikvision Turbo HD Security Solutions
Hikvision Turbo HD Series DVR is the perfect choice for high definition video over coax cable. This professional-grade digital video recorder is capable of producing superior images up to 1080P high definition and is also backwards compatible to support older analog cameras. Hikvision Turbo HD Series is designed to include all of the latest and greatest features for viewing live and recorded video including 24/7 recording, motion recording, object masking etc. This DVR utilizes the new H.264 high video compression technology to store more video while using less hard drive space. You can easily view your cameras remotely on any smartphone, tablet or computer using our free software and mobile apps. Turbo HD over Coax cameras are installed using RG59 Coaxial (Video) cable just like traditional analog cameras. Turbo HD over Coax systems offer a superior HD solution for your business or home. They are also an excellent solution for customers looking to upgrade their older analog systems.
This complete Turbo HD over Coax security camera system package includes 1080P infrared Outdoor / Indoor camera with fixed 3.6mm wide-angle lens and powerful night vision of up to 25 Meters. Turbo HD over Coax cameras are capable of transmitting high quality video well over 1,000 feet using standard BNC cabling. Our professional-grade security cameras are usually preferred by customers seeking better quality and higher resolution than most consumer brand cameras. A weatherproof rating makes this camera suitable for both indoor and outdoor use. This camera is the perfect choice for high definition video.
This complete high definition security camera system comes with everything needed for complete installation. It includes a 2 Year Warranty.
Installation of Turbo HD CCTV Security Camera systems is simple and easy. A simple step-by-step guide is included with every system. We also include live based Technical Support available Monday through Friday. We are happy to answer any questions and assist you at 0773387697.
---