4K 8MP Hikvision 3 Security Camera System with Turbo HD 4K DVR Best Price in Sri Lanka – 2 Years Warranty – Self Installation Package
Hikvision surveillance systems are designed for your home and business with easy installation and operation. The advanced H.265 Pro+ video compression technology provide you more faster loading speed, 50% less storage space and lower resource/data consumption. The system features 4K Turbo HD night vision, customize each camera with different recording modes. With free Hik-Connect App, you can keep tabs on what's happening at your home or business and watch the high-quality video on your Smartphone/Tablet/PC.
Protect your home and the people that matter most
---
---
Features
Hikvision  Turbo HD Acusense Digital Video Recorder
Record outstanding 4K video with exceptional resolution and quality on all channels. This security DVR can handle recording 4K resolution video. Not only will this provide you with sharper detail, it will also drastically improve digital zooms while reviewing important moments. Standard siamese BNC cabling is used to connect security cameras. Extend both video and power transmission up to 300ft for an easy-to-install process that will have your surveillance system up and running in no time. Included in the kit with a security-grade hard drive that has been designed to meet the demands of 24/7 surveillance, while also providing ample storage space for all recorded video footage. With the possibility of increasing storage space up to 10TB, there is more than enough room to safely store footage.
Hikvision iDS-7204HUHI-M1/S 4-ch 1U H.265 DVR Key Feature
4 channels and 1 HDD 1U AcuSense DVR
False alarm reduction by human and vehicle target classification based on deep learning
Efficient H.265 pro+ compression technology
Encoding abilty up to 8 MP lite @ 15 fps, 5 MP @ 12 fps
5 signals input adaptively (HDTVI/AHD/CVI/CVBS/IP)
Up to 8 network cameras can be connected.
Up to 10 TB capacity per HDD
---
---
Remote viewing from your mobile with Hik-Connect App
Quickly and easily view your security system remotely from your smartphone or tablet using our easy-to-use Hik-Connect app. Simply download the free app, scan the QR code on the DVR and your cameras will appear for you to monitor or review. You can also program the app to send you motion-activated push notifications straight to your phone to keep you connected to your property at all times.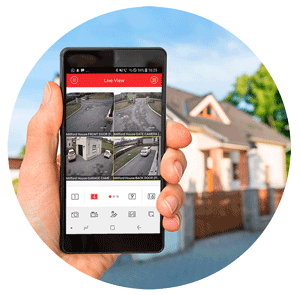 Works With

Hikvision DS-2CE16U1T-ITPF 8MP 4K Turbo HD Camera
Experience professional grade quality, outstanding video and reliable recording in 4K Ultra HD.
This camera is capable of recording a 4K pixel resolution of 3840 × 2160 – that's 4× the amount of pixels of 1080p. It will also allow for greater digital zooms so you can see further into the distance.
Equipped with a 87° horizontal field of view, this camera covers more than enough ground.
Install this durable security camera wherever you need it most – indoors or outdoors. It is manufactured to be fully weatherproof (rated IP67). So you can count on all-season security monitoring that never stops working. It also has extreme temperature performance of -22°F ~ 140°F / -30° ~ 60°C.
4K Fixed Mini Bullet Camera
Key Feature
8.3 MP bullet camera
3840 × 2160 resolution
EXIR 2.0: advanced infrared technology with 30 m IR distance
Water and dust resistant (IP67)
4 in 1 (4 signals switchable TVI/AHD/CVI/CVBS)
This Complete Hikvision Turbo HD 8MP CCTV Security Camera System includes:
(1) Hikvision iDS-7204HUHI-M1/S 4 Channel "Turbo HD 4K Acusense" High Definition Digital Video Recorder (DVR).
(3) Hikvision DS-2CE16U1T-ITPF 8MP Turbo HD Indoor/Outdoor Security Camera – up to 30 Meters Night Vision
(3) 12VDC 2Ah Outdoor/ Indoor Power Supply
(6) BNC Connectors
(1) Seagate / WD 500GB Hard Drive.
(1) 100 Meters 3C2V 75 Oms Coaxial Video Cable
Warranty & After sale service :
Two (02) years warranty for DVR, Camera's and One (01) year warranty for Hard Disk Drive against manufacturing defects.
Energy CCTV Security Camera Solution –  Working hours:
Monday – Friday: 9.00 AM – 5.00 PM | Saturday: 9.00 AM – 2.00 PM | Sunday/ Poya Day: closed
---
---