Hikvision Turbo HD 5MP 2 CCTV Camera + 4CH Acusense DVR System Sale Sri Lanka – Self Installation Kit – 2 Years Warranty
Monitor your property in outstanding 3K Turbo HD resolution and with 3K recording. This system includes an 4-channel DVR with 3K (5MP) bullet security cameras. The included weatherproof cameras (IP67-rated) deliver exceptional image quality day and night, with Clear Night Vision in low light conditions and long-range IR night vision in complete darkness. Everything you need for setup is included, giving you professional-grade security protection for your home or business.
Hikvision DS-7204HUHI-M1/S 5MP Turbo HD Acusense DVR
Person and vehicle smart motion detection
This Acusense DVR comes with smart person and vehicle detection on all channels. This helps identify more important objects that enter the camera's field of view. Thanks to this innovative feature, you will only get a push notification to your Hik-Connect app whenever a person or vehicle is detected on your property. This effectively reduces the number of unwanted false alerts caused by moving branches or animals. All recorded motion alerts can easily be reviewed by using the Smart Search function in the Hik-Connect mobile app.
Acusense DVR Key Feature
Deep learning-based motion detection 2.0 for all analog
channels
Deep learning-based perimeter protection
H.265 Pro+/H.265 Pro/H.265/H.264+/H.264 video compression
HDTVI/AHD/CVI/CVBS/IP video inputs
Audio via coaxial cable
Up to 8/16-ch IP camera inputs (up to 8 MP)
Up to 10 TB capacity per HDD
Compression and Recording
• H.265 Pro+ can be enabled to improve encoding efficiency and reduce data storage costs
• Recording at up to 8 MP resolution
Storage and Playback
• Smart search for efficient playback
• Support the third party cloud storage
Smart Function
• Deep learning-based motion detection, and perimeter protection (line crossing and intrusion detection)
• Support multiple VCA (Video Content Analytics) events for both analog and smart IP cameras
Network & Ethernet Access
• Compatible with major Wi-Fi dongle products in the market
• Hik-Connect & DDNS (Dynamic Domain Name System) for easy network management
• Output bandwidth limit configurable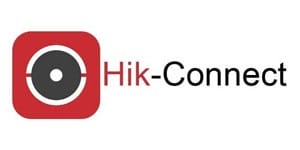 Works With


Hikvision DS-2CE16H0T-ITPF 5MP Turbo HD Security Camera
The main reason to purchase a security camera is to capture useful evidence should an incident ever occur on your property. This 3K camera will do just that. It is capable of recording a 3K pixel resolution of 2560 (H) × 1944 (V)
5MP Turbo HD Camera Key Feature
5 MP bullet camera
EXIR 2.0: advanced infrared technology with 20 m IR distance
Water and dust resistant (IP67)
4 in 1 (4 signals switchable TVI/AHD/CVI/CVBS)
2.8 mm, 3.6 mm, 6 mm fixed lens
OSD menu, 2D DNR, DWDR
Up the coax (HIKVISION-C)
This Complete Hikvision Turbo HD 5MP CCTV Security Camera System includes:
(1) Hikvision DS-7204HUHI-M1/S 4 Channel "Acusense Turbo HD 5MP" High Definition Digital Video Recorder (DVR).
(2) Hikvision DS-2CE16H0T-ITPF 5MP Turbo HD Indoor/Outdoor Security Camera – up to 25 Meters Night Vision
(2) 12VDC 2Ah Outdoor/ Indoor Power Supply
(4) BNC Connectors
(1) Seagate / WD 1 Terabyte Surveillance Grade Hard Drive (1TB HDD).
(1) 100Meters RG6 75 Oms 100% Copper Coaxial Video Cable
Warranty & After sale service :
Two (02) years warranty for DVR, Camera's and Hard Disk Drive against manufacturing defects only.
Warranty does not include visiting & Service charges.
Energy CCTV Security Camera Solution –  Working hours:
Monday – Friday: 9.00 AM – 5.00 PM | Saturday: 9.00 AM – 2.00 PM | Sunday/ Poya Day: closed
---
What is the Hikvision Acusense Technology?
How does AcuSense work?
AcuSense technology uses advanced machine vision AI algorithms built into Hikvision security cameras and video recorders to boost home and business security. Check the diagram below for details.

Hikvision's AcuSense technology embeds deep-learning algorithms into security cameras and video recorders to equip businesses and homeowners with smart tools to take security to the next level, both indoors and outdoors. With AcuSense, you can help your customers upgrade to innovative, AI-powered security camera systems – at only a small incremental cost to their business.
Our customers use AcuSense-enabled products for a wide range of residential and business applications. Hikvision customers are currently using AcuSense technology to protect indoor and outdoor areas at:
---